Welcome to the web site of ACITEC, Inc.

ACITEC specializes in the design and engineering of chemical processing systems for Hydrogen Fluoride (HF), Hydrofluoric Acid and Nitric Acid. Our design services include:
Manufacturing operations
Bulk storage facilities & related piping systems
Wastewater treatment systems
Fume scrubber systems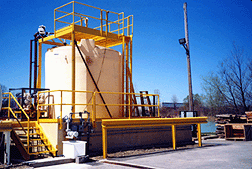 We can assist you with:
Modifications, repairs and upgrades to your existing processes
Environmental issues
Safety HF awareness
Whether your end product is an ultra high-purity specialty chemical or chemically milled parts for your customer, ACITEC's end product is a satisfied customer.
Please browse our pages & feel free to contact us with your questions.
ACITEC
13519 W. 130th Street
North Royalton, OH 44133
Phone: (440) 582-0304
Fax: (440) 582-8094
Email:info@acitec.com
---